The Most Powerful Water Pitcher on the Market
Traditionally, water pitchers have not been serious filtration devices. The Clearly Filtered® Water Pitcher with Affinity® Filtration Technology changes everything, reduces up to 99.9% of 365+ harmful and dangerous tap water contaminants. That's more than the 3 leading brand name pitchers combined.
Filter included 

with Affinity Filtration Technology. 

 

Only pitcher independently tested to NSF standard 42, 53, 401 & 473.

The combination of the proprietary technology and additional contact time allows for superior protection from all contaminant types.

Reduces Fluoride, Lead, BPA, Glyphosate, PFOAs, Hormones & over 365 of the most harmful tap water impurities.

Our intelligent technology does not target beneficial minerals.
100% BPA/BPS-Free medical-grade Tritan materials.
Average filter life: 100 gallons (replace every 4 months* on average).
Capacity: 80oz or 10 cups.
FILTER TEST RESULTS CLICK HERE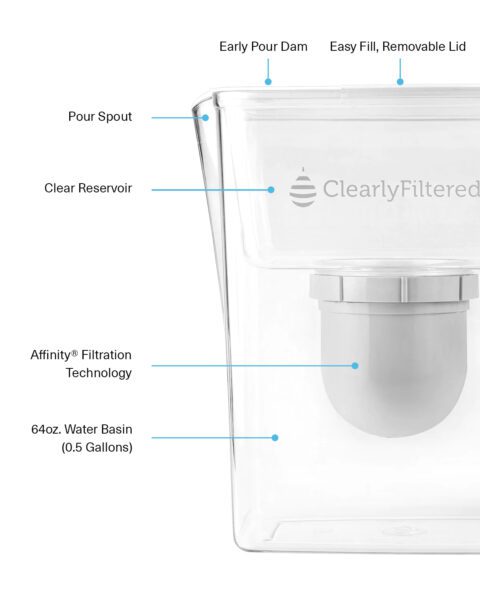 BPA/BPS Free
Our pitcher is made of 100% BPA free, medical-grade Tritan® materials. This ensures it doesn't leach chemicals or emit any odors or bad tastes into your filtered water.
80-Ounce (10 cups) Capacity
The slim-design pitcher was designed to hold 80 ounces of water, more than what an average person is supposed to drink in one day for optimal hydration.
Oversized, Easy-Grip Handle
When designing the pitcher, we paid special attention to the handle to make sure all hands could get a solid, comfortable grip and pour with ease.
Built-In Water Dam
A water-dam inside the top reservoir keeps unfiltered water from spilling out while you pour filtered water from the pitcher below.