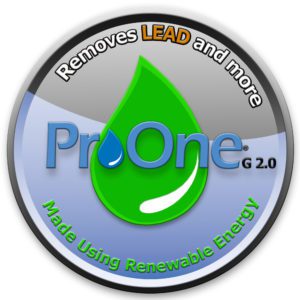 A single replacement ProOne M G2.0 4″ filter for use with the ProOne Water Pitcher.
The new ProOne G2.0 Water & Fluoride filter with advanced manufacturing technology combines silver impregnated self-sterilizing white ceramic with new AquaMetix™ media for removal of fluoride and other heavy metals, ALL-IN-ONE filter element.  In addition to primary contaminants, only the ProOne G2.0 Water & Fluoride filter elements help reduce or remove pesticides, herbicides, chloramines (ammonia with chlorine), hydrofluorosilicic acid (the latest form of fluoride not covered by other fluoride filter brands) and sodium hexa fluorosilicate.  Easy to install, use and clean – no priming required.  We recommend that you replace yourProOne G2.0 4″ filter every 6 months.  The new ProOne G2.0 Water & Fluoride filter elements are tested to meet NSF/ANSI standards 42, 53 and 61.
Visit the ProOne G2.0 Technical Information Page for more detailed information.
*The removal/reduction of contaminants or other substances, filter replacement period and/or life expectancy in gallons may vary depending on the level of contaminants present in your water supply. Some contaminants may be more easily filtered than others. Based on average daily water consumption and **optimal fluoride levels recommended by the US Public Health Service and CDC for drinking water.