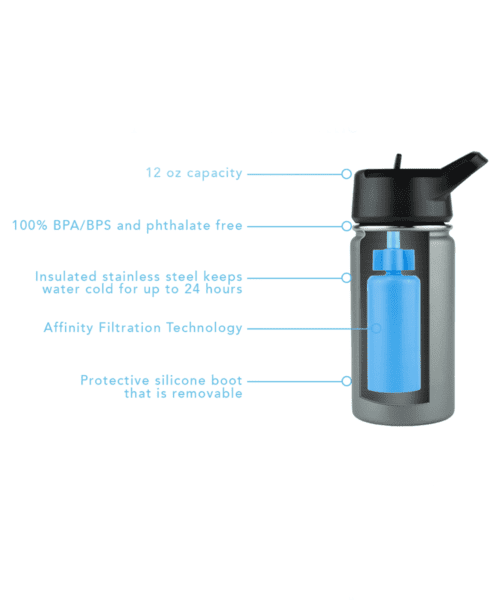 The Clearly Filtered® 12-Ounce Insulated Stainless Steel Water Bottle with Affinity® Filtration Technology allows you to transform ordinary tap water into clean and safe drinking water by simply sipping through the straw. Wherever the day takes you, you'll have peace of mind knowing your tap water is free from 99.9% of 220+ contaminants. Perfect for school, water fountains, parks, restaurants, traveling, and more.
12oz capacity
Filter Included: Includes first replaceable Affinity Filtration filter
Double-wall Insulation: keeps water cold for up to 24 hrs
Silicone Boot: for protection and grip
BPA/BPS Free, Phthalate Free
Our filtered bottle is 100% BPA, BPS, and phthalate free. This ensures it doesn't leach chemicals or emit any odors or bad tastes into your filtered water.
12-Ounce Capacity
Twelve ounces is a perfect amount for convenient hydration when on-the-go and at school.
Easy-Clean Mouthpiece
The hygienic flip-top mouthpiece makes for easy sipping and stores out of the way when not in use. It's also a cinch to clean when the day is done.
Double-Wall Insulated Stainless Steel
Durable, double-walled 18/8 stainless steel construction keeps the contents of your bottle colder, for longer.
No-Sweat Finish
The exterior stainless surface is sweat-free, so you can wet your whistle while keeping your stuff dry.