Hemp FX™ Relax™ combines powerful all-natural botanicals, including phytocannabinoid-rich hemp-derived cannabinoid oil, to help the mind and body relax and support deep, soothing sleep.
Ingredients & Benefits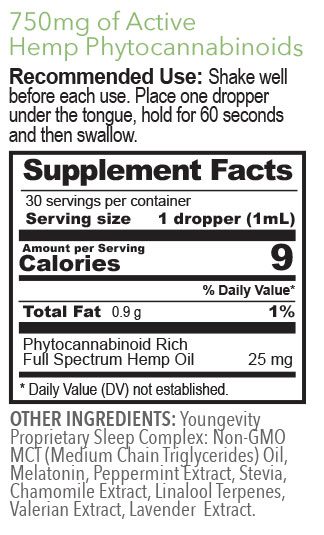 Phytocannabinoid Rich Broad Spectrum Hemp Oil:
made from organically grown hemp, cannabinoids may support many aspects of health due to its anti-inflammatory benefits
Melatonin:
although produced naturally in the body, this hormone is vital to supporting the circadian rhythm that tells your body when to go to sleep.
Chamomile:
a popular herb used in ancient medicine to help calm the nervous system as well as support many other elements in the body, such as the cardiovascular and digestive system.
Linalool Terpene:
an aromatic compound found in plants, Linalool helps to enhance the numerous health benefits of cannabinoids.
Lavender:
an aromatic herb used to promote a calming environment and relax the mind and body.
Valerian:
this popular herb has been used historically for its sedative effects.
Who is it for?
Hemp FX™ Relax™ is for anyone who has trouble falling asleep, staying asleep, or is interested in an improved nightly sleep cycle.
Why is ours different?
Hemp FX™ Relax™ is made using a proprietary, organically grown hybrid hemp plant combined with soothing botanicals for targeted and highly effective sleep support. Our patent pending extraction & purification methods preserve the concentration of the cannabidiol oil when taken from the hemp plant. This nutrient dense hemp-derived cannabinoid oil is 3rd party tested for safety, purity, and potency. When combined with the most well-researched botanicals to enable mind and body relaxation, it delivers powerful, targeted support a restful night's sleep.
How does it work?
With natural ingredients including hemp derived cannabinoids, melatonin, chamomile, linalool terpene, valerian, and lavender, this blend helps put you into the ultimate state of relaxation. By calming the sympathetic nervous system, it supports a relaxed mind and body to help you get the quality rest you need for optimal health.
Best use cases
About 20 -30 minutes before bed for best results. Shake well before each use. Place one dropper under the tongue, hold for 60 seconds and then swallow.